Grow Your Future with a Career in Agronomy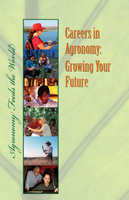 A career in agronomy will keep you in the center of efforts to increase the global supply of high-qualty food, feed, fiber, fuel, and pharmaceuticals while protecting and preserving the environment.
You will use your natural curiousity and enthusiasm for science to help solve some of the toughest problems facing humanity: safe and abundant food production. 
JOBS BOARD AND MORE
Visit our Career Center website for more Career Tools and information.

The Career Center promotes and encourages opportunities in the agronomic, crop, soil, and environmental sciences and serves as a clearinghouse for resumes and job listings. Employers and recruiters will find the most qualified talent pool with relevant work experience to fulfill their staffing needs.
Visit our careers page to browse and post positions.
 
Be sure to participate in our Career Center and Career Fair at the 2018 ASA, CSSA Annual Meeting, November 4-7, Baltimore, MD.
Agronomy career paths include:
Agribusiness
Education
Extension
Government
Urban Agronomists