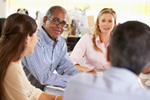 Volunteerism is widely recognized for its leadership-building capabilities and as a positive addition to one's curriculum vitae. Networking connections made while volunteering can lead to research partnerships, job advancement, lifelong friendships, and personal fulfillment and recognition. Volunteering is also an excellent way to learn more about a particular role or sector, for example coming from nonprofit or government and switching to for profit. You'll broaden your exposure beyond boundaries of your existing professional network, and cross paths with people from across your discipline, including leaders with whom you may otherwise not have met. So, get involved with one of these opportunities:
Committees and Boards
Beyond Committees...
Crunched for time? Try these one-and-done opportunities
Make the Most of Your Membership