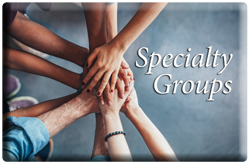 Traditionally, our Communities and Divisions of Interest have been formed around scientific areas and/or career-focused (education, extension, consulting) areas within the sciences.  Now, we're expanding to enhance the social connections of members.   
The ASA, CSSA, and SSSA leadership is encouraging and nurturing the formation and development of groups that transcend science and speak to the social fabric across our Agronomy, Crop Science, and Soil Science communities.  The first set of groups being launched are listed below.
All members of the three Societies will be able to join any of the specialty groups,
There is no limit to the number of groups you may join,
Members will join via their online account (login is required):
Each group will have a listserv that group members can post to and/or reply to,
Groups may have individual web pages for information and resources,
Group members agree to the Code of Conduct of the Societies.
Descriptions
Wayne Roper
A significant amount of crop and soil science research may influence governmental policy, but the mechanisms of policy are not typically aligned with the progress of research. This group encourages people to discuss research as a public good, and how policy is currently affecting the impact of agricultural research and product development. What aspects of agricultural policy have been beneficial to advances in crop and soil sciences? What aspects have been detrimental? What can people do at local and national levels to help influence change in agricultural policy? People from academia, private industries, government, and other areas of society are welcome to share their thoughts on the subject.
CSA Christian Fellowship
Ann Marie Thro
The CSA Christian Fellowship provides an opportunity to meet other brothers and sisters in Christ -- from around the world - in the Tri-Societies.   We worship and pray, as well as share about our research, extension, teaching, families, and faith, as part of the agricultural professional community who are followers of Christ.   We promote integrity in our sciences and service to others in need of our scientific and technical expertise.  Meetings are held annually during the time of the CSA society meetings.
International Students and Researchers
Valeria Lobos-Sujo
As we all know, science is international! A quick search of #labflags on twitter will give you a great visual representation of this and how most scientists feel proud to share the diversity present in their research groups. This specialty group will celebrate just that. All scientists are welcome to join and we will provide a platform to exchange experiences, thoughts, and ideas that will enhance our experience as members of the societies. Our goal is to develop new ways to share our research across the world and hopefully facilitate multinational collaborations. 
LGBTQ+ Scientists and Allies
Christopher Ryan
An interdisciplinary group for students and professionals in academia, agriculture, and extension focused on LGBTQ+ individuals (lesbian, gay, bisexual, transgender, queer, and related identities) and allies (those that are supportive). Key focus will be placed on education, advocacy, and support, including an intersectional emphasis - exploring the ways that identities (gender, race, religion, class, ability, among others) intersect to create unique challenges and experiences.
Sabine Grunwald
The Mindfulness Specialty Group aims to integrate mindfulness into the fabric of ASA-CSSA-SSSA and our professional and personal lives through mindfulness practice, explore mindfulness as a life skill, and share our experiences.
Military Veterans of Agriculture
Bryant Wait
Military Veterans of Agriculture is a group of military veterans within the Societies (ASA, CSSA, SSSA), who support the advancement and promotion of military veterans in the agriculture sector. Military veterans have a very diverse set of skills which are great assets to the agriculture industry. Coupled with our superb teamwork, we strive to incorporate our military training into civilian agricultural systems.  
Parent Scientists
Jo Heuschele
This scientist parent support group is being developed to promote a heathy balance between satisfying a career in science and raising a family.  We will be addressing issues like time management, work life balance, and parenting techniques.  We hope to connect "new" and "old" scientist parents to discuss strategies for success.
Scientists and Students of Nepali Origin
Upendra Sainju
Our specialist group involves 35 to 40 scientists and students from Nepal who participate in ASA-SSSA-CSSA international annual meeting every year. This group is also connected to Association of Nepalese Agricultural Professionals of Americas (NAPA – Website: http://napaamericas.org/). Scientists and students from NAPA are interested to collaborate for networking, data sharing, proposal preparation, publications, and other research activities with those from Tri-Societies. We are interested to know how we can enhance our collaboration and linkage to work together for our mutual benefits.
Scientists and Students of Indian Origin
Gurleen Kaur
This group is being developed to bring together scientists and students of Indian origin.